Grand Rapids Sport & Social Club is perfect for the Grand Rapids 21 and up, professionals. We offer a unique opportunity to meet other physically and socially active individuals. Ideal for people who may have recently moved to the Grand Rapids area or just looking for a reason to get out of the house on a weekday! From Dodgeball, Kickball, to Flag Football, everything we do is coed!
How We Do It
One night a week, you and your coed team plays a fun, non-competitive game of a coed sport. After each game we all meet at our partnered bar for our club's social happy hour(s), where we'll receive substantial drink and food discounts!

Our Other Locations
Kalamazoo | Lansing | Ann Arbor | Fort Wayne | Honolulu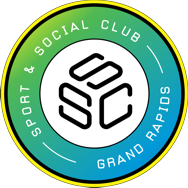 We Keep it Social
For people who like sports, but LOVE to socialize! GRSSC keeps you active, introduces you to tons of new friends, and gets you out of the house on week nights. Grand Rapids Sport & Social Club is where Grand Rapids comes to play!
Do you have a "Rockstar Mentality" and looking for an Internship?
Email your resume, cover letter, and list of references to: Ace@grssc.com
Summer Leagues now forming!
Sign Up TODAY!