Grand Rapids Sport & Social Club is perfect for the Grand Rapids' youth, young professionals, and the "young at heart".  We offer a unique opportunity to meet other physically and socially active individuals. Ideal for people who may have recently moved to the Grand Rapids area or just looking for a reason to get out of the house on a weekday!  From Dodgeball, Kickball, to Flag Football, everything we do is coed and super social!
1st - 5th Grade Youth Dodgball Camp
HEY ELEMENTARY SCHOOL PARENTS!  After school, have your child join us for a super fun 2-hour Dodgeball Camp!  One night a week, from 4-6pm, your child will play, learn, and socialize all things dodgeball!  Super fun, safe, and non-competitive.  Only $70 for a 7-week season, it's cheaper than a babysitter!  Your child will learn about teamwork,  embark in a  a fun, non-competitive...read more
Adult Sport Leagues
CALLING ALL YOUNG PROFESSIONALS!  One night a week, you and your coed team plays a fun, non-competitive game of a coed sport. After each game we all meet at our partnered bar for our club's social happy hour(s), where we'll receive substantial drink and food discounts!
For people who like sports, but LOVE to socialize! GRSSC keeps you active, introduces you to tons of new friends, and gets you out of the house on week nights. Grand Rapids Sport & Social Club is where Grand Rapids comes to play!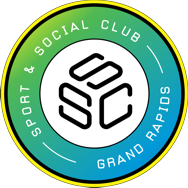 The GRSSC Sportsplex! (see map)
Fitness Class | Drop-in Games
See our Calendar of Events, offering daily fitness classes like Zumba and Mommy Bootcamp to drop-in sports like basketball, dodgeball, and volleyball.   We got you covered!  We offer all 3 options:  adult-only, kid-only, and family days!  See the Calendar
Space Rentals at the GRSSC Sportplex!
We have 15,000 sq ft of indoor sport-friendly courts, including 3 full volleyball/dodgeball courts, half-court basketball, workout space, and office space!  Perfect for coaches, fitness instructors, or even a group of friends who ...read more